As I find myself the somewhat eternal single girl on Valentine's Day, you can imagine I like to celebrate this holiday as much as a root canal. However, this year because I'm so much into the karma, Field of Dreamish mode of "If you build it, he will come"(sometimes I substitute "it", ya know, for the book deal and all, lol), that I decide to hop the bandwagon of Taherah, Sarah, Kate, and Kristen's Valentine's blogfest.
So without further adeiu, my Secret Pal Valentine is
Clockmonkey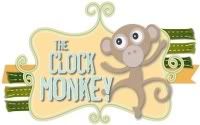 ClockMonkey
is a book review site ran by
Ella
, who is an Argentine college student.
Shes been reviewing books since 2009. While she loves reading anything, she is partial to YA, and she will only review YA books. Not only does she review books, but she's also interviewed authors like Becca Fitzpatrick, Kami Garcia & Margaret Stohl, and Terra Lynn Childs.